Karo regency in North Sumatra was previously known for producing oranges. However, crop failures due to pests have led local farmers to grow coffee instead.
The regency's head of farming, Sarjana Purba, said on Friday during a handover ceremony of Starbucks Indonesia coffee beans at the Starbucks Farmer Support Center (FSC) in Brastagi, North Sumatra, that coffee was a promising plant for boosting production in Karo.
Masri, a secretary of Masyarakat Perlindungan Indikasi Geografis (MPIG) Kopi Arabika Tanah Karo, said there were around 8,000 hectares of coffee farms in the area.
Masri was among the recipients of the coffee tree seeds donated by Starbucks Indonesia.
The seeds come from the coffee chain's Art in a Cup campaign, which ran from March to April. During the program, Starbucks Indonesia promised that it would donate one coffee seed for every 10 cups of popular Starbucks beverages sold, namely the Caramel Cream Frappucino Affogato Style, Caramel Macchiato, Vanilla Sweet Cream Cold Brew and Iced Match and Espresso Fusion, all of which were offered at a special price of Rp 35,000 (US$3).
For the campaign, Starbucks Indonesia donated 150,000 coffee tree seeds worth Rp 400 million to Sumatran farmers, which included coffee farmers from Karo.
Masri said he was interested in joining the program because it gave away quality coffee seeds that were not available in the market.
Read also: Starbucks campaign endorses Sumatran coffee farmers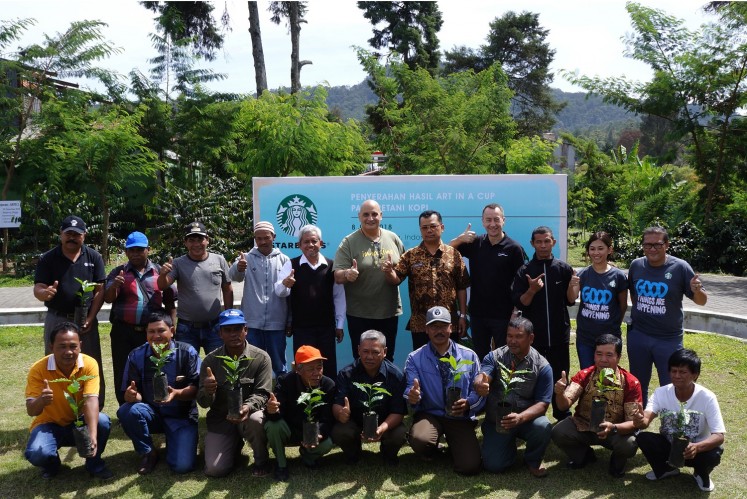 Starbucks Indonesia donated 150,000 coffee tree seeds to Sumatran farmers. (JP/Jessicha Valentina)
"[FSC] also educates [farmers] about [coffee production]; from planting, maintaining and harvesting to post-harvest," he said, adding that the farmers previously never received that kind of education.
In regard to the coffee beans, FSC agronomist Surip Mawardi said that Starbucks Indonesia gave out three types of seeds, namely Komposit Andungsari (Komasi) 3, Andungsari 1 and Sigarar Utang.
The seeds came from the Coffee and Cacao Research Center and allow for high productivity.
In addition to Karo regency, the seeds were also distributed to other regencies in Sumatra, namely Simalungun, North Tapanuli and Humbang Hasundutan in North Sumatra; Central Aceh in Aceh; and Kerinci in Jambi.
Farmers participating in the program are expected to actively grow and take care of their coffee plants, with Surip providing them with training and education on coffee beans.
Armin Ginting, the head of the Sinergi Fajar Harapan farming group, admitted that when compared to coffee farms in Bali, Karo was far behind, particularly in terms of production.
Armin, who joined the FSC program two years ago, expressed gratitude for the training provided by the FSC, a facility established by Starbucks to help coffee farmers understand more about coffee farming. (kes)